Simplifying Business Travel
Corporate Cash Passport Solutions
A Corporate Prepaid Card solution to help easily manage expenses and other disbursements via APIs or our web portal.
Create your cardholders in real-time and give them a card
Cards get activated by you or your cardholder
Load/Unload cards in line with your needs
Download your data for reconciliation
Multi-currency capability
Load and manage multiple currencies on a single card to better manage an control spend in different currencies.
Multi-currency Instant Issue Cards
Connect via APIs or a web portal
Data for reconciliation
Load or unload funds as needed
Approval feature via web portal
Bulk processing
Cardholder servicing
Accepted at millions of locations
Use your Corporate Cash Passport at merchants and ATMs worldwide where Mastercard Prepaid is accepted.
Business expenses
Employee T&E expenses
Employee per diem allowances
Customer compensation (e.g. airline passenger compensation)*
Payout (e.g. supplier commissions or incentives)*
Payroll*
*These use cases may be subject to customer identity verification requirements under Anti-Money laundering legislation and/or limits to the maximum balance that can be held on each card.
Corporate Cash Passport Solutions
Corporate Cash Passport Solutions is a Multi-currency Prepaid Card Platform for organisations of all types. It offers an alternative to cash, cheques, credit/debit cards and bank transfers when making disbursements and payments.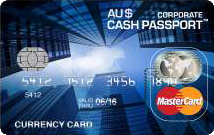 Benefits
Multi-currency card solution
Load and unload as needed
Load approval optional
Safer and easier than cash advances
Easy system to load/unload
Bulk processing
Real-time processing
Multiple use cases and worldwide acceptance with online or physical retailers
Easy access to funds
Easy access to transactions
Safer than cash
Accepted at millions of locations worldwide